Bizen Osafune Japanese sword museum
Do you know that

Osafune town

(in Bizen City) is famous for the production of

Japanese sword

(katana)


The production of Japanese swords in Osafune started about 800years ago (in the Kamakura era).
Swords made in Osafune were known for its high quality, and it spread gradually throughout the country at that time. People called the swords 'Bizen tou (Bizen sword)'.


In Osafune town, there's a unique tourist spot, 'Bizen Osafune Japanese sword museum' where you can see not only

real Japanese swords

but also working blacksmith and Katana artisans.

 


                                                                                                                                                    ©Hareranman Okayama tabi net


It takes about 40min by car from the centre of Okayama City.


You can see a video and photos of Japanese sword on the ground floor.

 


What's more, a real sword is exhibited here so that visitors can touch it and lift it.
Can you guess how heavy it is
 
The answer is …1kg
Actually it's about 1.5kg including a haft and a sheath.
It's lighter that I expected



We learned how to make Japanese swords at first.

In the picture on the left hand, you see 'tama hagane (steel ball)' which is used to make Japanese swords.

 
                                                                                                                                                   ©Hareranman Okayama tabi net
It's heated to 1300 degrees, and it's hit with a hammer. After that, it's plunged into water to cool.
This process is called 'tanren (tempering)' for making swords harder and stronger.

If you are curious about it, I recommend you to see the demonstration of tanren (tempering) given on the second Sunday every month (it starts at 11:00, 14:00).


We moved to the upstairs, and enjoyed the exhibition of Japanese swords collection.

Japanese swords are classified according to the length and the shape.
This is 'Tachi'.
It was mainly made in the Heian era and

early in the Muromachi era

(the 12-16th century).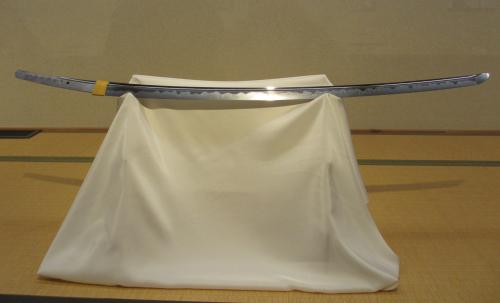 by Amata Akitsugu (Niigata prefecture)
                                          May, 1993
In those days, soldiers needed to fight each other riding horses
For that reason, swords tended to be

long

and

curved

.
This sword is made by Amata Akitsugu who is designated as a living national treasure.


Those Tachi evolved into

'katana'

in the Muromachi era since the style of the war changed as time went by.
Solders were fighting on the ground, in a big group at that time. So, swords tended to be shorter and slightly curved.

 
                                         by Gassan Sadaichi (Nara prefecture)
                                           August, 1987
This sword is also made by a living national treasure, Gassan Sadaichi.


Swords which has blades shorter than 30cm are called

'Tantou'

.

 


                                     by Kawashima Kazuki (Okayama prefecture)


Tantou used be a weapon for self-defense, and at the same time, it was

an amulet

for women and children.
So, Tantou were intended to be elaborate works of art rather than practical weapons.

Even today, Japanese people wear Tantou as an amulet at a special occation such as a wedding ceremony.

 


Japanese swords are notable for their

exquisite form

and the beautiful pattern on blades called 'hamon'.

Especially, each hamon shows dynamic individuality. So, please pay attention to it when you see Japanese swords.


by Sasaki Naohiko (Hokkaido)                     

by Kubo Yoshihiro (Hiroshima prefecture)


Can you see the differences



However, sometimes you might not be able to see hamon clearly because of the lights.
So, I'll show you the best way to see hamon.

You should move your head up and down like this.


It might seem to be an odd way to behave..., but please try it



The beauty of Japanese swords impressed me

Since ancient times, swords have been thought of as sacred objects imbued with spiritual power.
I feel in that way too.


We visited a room for

tanren

(tempering)

afterwards.



 
We tried lifting up the hummer, but it was extremely heavy

To my surprise, the hammer is about 8kg
 
It was impossible for me…


In the building next to the museum, you can see

artisans

making some parts of swords.
The process of making Japanese swords is divided into separate tasks performed by different specialists.


He is a specialist for

honing

.
Horning is one of the most important process of making swords.

 

He sharpens the sword using several kinds of whetstones. It needs 7-14days to finish one sword.




We also see some works by

a chaser

(left)

and the process of

varnishing

(right).




There are so many steps to complete a sword besides those.
In fact, whole process to make one sword needs more than a year



We swung by the shop in the museum.
My favorites are sword-shaped chopsticks

(left),

miniature swords (right),

 
and paper knives made in traditional way
 
Moreover, you can even buy real Japanese swords here



★Some documents and ID are needed to buy it. Please ask staff about it.




This museum introduces Japanese sword from many different angle, so there's a lot to see

I bet you'll fall in love with Japanese swords once you see them


Since the exhibition is changing every 2-3months, please check what's on before you visit the museum on the website



Bizen Osafune Japanese sword museum
Address: 966 Osafune, Osafune town, Setouchi City
Tel: 0869-66-7767
Opening time: 9:00-17:00 (last admission 16:30)
Close: Mondays (it opens if it's a holiday), the next day of holidays
     December28-January4
Admission fee: adults 500yen, high school and university students 300yen
Additional fee might be needed in case of the special exhibition.
Access: 25min by car from BizenIC 
               30min by car from Sanyo IC
www.city.setouchi.lg.jp/~osa-token/   

(Japanese)


www.city.setouchi.lg.jp/~osa-token/english/index.htm  

(English)






大きな地図で見る
スポンサーサイト